Oct 7, 2018
October 7 Late Service Sermon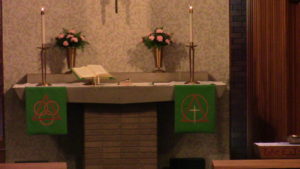 Watch
Notes
Download
Date
Title
Oct 7, 2018

October 7 Late Service Sermon

Oct 7, 2018

October 7 Late Service Sermon

Sep 30, 2018

September 30 Late Service Sermon

Sep 30, 2018

September 30 Late Service Sermon

"September 30 Late Service Sermon".

Sep 23, 2018

September 23 Late Service Sermon

Sep 23, 2018

September 23 Late Service Sermon

Mark 9:30–37 Today's reading will show us the fear and uncertainty the disciples experienced when Jesus shared of His impending death. To be first you must be last. The Kingdom of God is always upside down. Jesus welcomes us in our lowly condition. Jesus served to the point of death. When we humble ourselves and welcome others in their humble state, we welcome the Kingdom of God. 30

[The disciples] went on from there and passed through Galilee. And [Jesus] did not want anyone to know,

31

for he was teaching his disciples, saying to them, "The Son of Man is going to be delivered into the hands of men, and they will kill him. And when he is killed, after three days he will rise."

32

But they did not understand the saying, and were afraid to ask him.

33

And they came to Capernaum. And when he was in the house he asked them, "What were you discussing on the way?"

34

But they kept silent, for on the way they had argued with one another about who was the greatest.

35

And he sat down and called the twelve. And he said to them, "If anyone would be first, he must be last of all and servant of all."

36

And he took a child and put him in the midst of them, and taking him in his arms, he said to them,

37

"Whoever receives one such child in my name receives me, and whoever receives me, receives not me but him who sent me."

Sep 16, 2018

September 16 Late Service Sermon

Sep 16, 2018

September 16 Late Service Sermon

Mark 9:14–29 today's Gospel reading, Jesus addresses the feeble faith of the disciples and father seeking healing for his son, stricken with seizures and an impure spirit. Jesus brings wonder, healing, and wisdom just by being there. He brings Himself, fully. Mark causes us to consider how taking a seed of belief in the power of Jesus has the ability to transform lives and move mountains. 14 When they came to the disciples, they saw a great crowd around them, and scribes arguing with them. 15And immediately all the crowd, when they saw him, were greatly amazed and ran up to [Jesus] and greeted him. 16And he asked them, "What are you arguing about with them?" 17And someone from the crowd answered him, "Teacher, I brought my son to you, for he has a spirit that makes him mute. 18And whenever it seizes him, it throws him down, and he foams and grinds his teeth and becomes rigid. So I asked your disciples to cast it out, and they were not able." 19And he answered them, "O faithless generation, how long am I to be with you? How long am I to bear with you? Bring him to me." 20And they brought the boy to him. And when the spirit saw him, immediately it convulsed the boy, and he fell on the ground and rolled about, foaming at the mouth. 21And Jesus asked his father, "How long has this been happening to him?" And he said, "From childhood. 22And it has often cast him into fire and into water, to destroy him. But if you can do anything, have compassion on us and help us." 23And Jesus said to him, "If you can! All things are possible for one who believes." 24Immediately the father of the child cried out and said, "I believe; help my unbelief!" 25And when Jesus saw that a crowd came running together, he rebuked the unclean spirit, saying to it, "You mute and deaf spirit, I command you, come out of him and never enter him again." 26And after crying out and convulsing him terribly, it came out, and the boy was like a corpse, so that most of them said, "He is dead." 27But Jesus took him by the hand and lifted him up, and he arose. 28And when he had entered the house, his disciples asked him privately, "Why could we not cast it out?" 29And he said to them, "This kind cannot be driven out by anything but prayer."

May 20, 2018

May 20 Late Service Sermon

May 20, 2018

May 20 Late Service Sermon

Acts 2:1–21 On the day of Pentecost, the Holy Spirit made a windy entrance in the upper room as tongues of fire rested on each of the apostles who began speaking in different tongues so that Jews from every nation understood what they were saying in their own languages. 1When the day of Pentecost arrived, they were all together in one place. 2And suddenly there came from heaven a sound like a mighty rushing wind, and it filled the entire house where they were sitting. 3And divided tongues as of fire appeared to them and rested on each one of them. 4And they were all filled with the Holy Spirit and began to speak in other tongues as the Spirit gave them utterance. 5Now there were dwelling in Jerusalem Jews, devout men from every nation under heaven. 6And at this sound the multitude came together, and they were bewildered, because each one was hearing them speak in his own language. 7And they were amazed and astonished, saying, "Are not all these who are speaking Galileans? 8And how is it that we hear, each of us in his own native language? 9Parthians and Medes and Elamites and residents of Mesopotamia, Judea and Cappadocia, Pontus and Asia, 10Phrygia and Pamphylia, Egypt and the parts of Libya belonging to Cyrene, and visitors from Rome, 11both Jews and proselytes, Cretans and Arabians—we hear them telling in our own tongues the mighty works of God." 12And all were amazed and perplexed, saying to one another, "What does this mean?" 13But others mocking said, "They are filled with new wine." 14But Peter, standing with the eleven, lifted up his voice and addressed them, "Men of Judea and all who dwell in Jerusalem, let this be known to you, and give ear to my words. 15For these men are not drunk, as you suppose, since it is only the third hour of the day. 16But this is what was uttered through the prophet Joel: 17"'And in the last days it shall be, God declares, that I will pour out my Spirit on all flesh, and your sons and your daughters shall prophesy, and your young men shall see visions, and your old men shall dream dreams; 18even on my male servants and female servants in those days I will pour out my Spirit, and they shall prophesy. 19And I will show wonders in the heavens above and signs on the earth below, blood, and fire, and vapor of smoke; 20the sun shall be turned to darkness and the moon to blood, before the day of the Lord comes, the great and magnificent day. 21And it shall come to pass that everyone who calls upon the name of the Lord shall be saved.'"

May 6, 2018

May 6 Late Service Sermon

May 6, 2018

May 6 Late Service Sermon

1 John 5:1–8 When we love God and carry out His commands, we can know that we are the children of God. We have victory to overcome the world through Jesus Christ. 1Everyone who believes that Jesus is the Christ has been born of God, and everyone who loves the Father loves whoever has been born of him. 2By this we know that we love the children of God, when we love God and obey his commandments. 3For this is the love of God, that we keep his commandments. And his commandments are not burdensome. 4For everyone who has been born of God overcomes the world. And this is the victory that has overcome the world—our faith. 5Who is it that overcomes the world except the one who believes that Jesus is the Son of God? 6This is he who came by water and blood—Jesus Christ; not by the water only but by the water and the blood. And the Spirit is the one who testifies, because the Spirit is the truth. 7For there are three that testify: 8the Spirit and the water and the blood; and these three agree John 15:9–17 The greatest commandment that Jesus not only modeled on earth but also gave to us to follow is to, "Love each other as I have loved you." The world will know Jesus by the way we live our lives, so live your life filled with the same love that Christ has for you. 9As the Father has loved me, so have I loved you. Abide in my love. 10If you keep my commandments, you will abide in my love, just as I have kept my Father's commandments and abide in his love. 11These things I have spoken to you, that my joy may be in you, and that your joy may be full. 12[Jesus said:] "This is my commandment, that you love one another as I have loved you. 13Greater love has no one than this, that someone lays down his life for his friends. 14You are my friends if you do what I command you. 15No longer do I call you servants, for the servant does not know what his master is doing; but I have called you friends, for all that I have heard from my Father I have made known to you. 16You did not choose me, but I chose you and appointed you that you should go and bear fruit and that your fruit should abide, so that whatever you ask the Father in my name, he may give it to you. 17These things I command you, so that you will love one another.

Apr 22, 2018

April 22 Late Service Sermon

Apr 22, 2018

April 22 Late Service Sermon

Apr 15, 2018

April 15 Late Service Sermon

Apr 15, 2018

April 15 Late Service Sermon

Rev. Mark Viets

Apr 8, 2018

April 8 Late Service Sermon

Apr 8, 2018

April 8 Late Service Sermon

Acts 4:32–35 As a result of the unity brought about through the power of Jesus Christ and the resurrection, many gave and shared their possessions among one another. 32Now the full number of those who believed were of one heart and soul, and no one said that any of the things that belonged to him was his own, but they had everything in common. 33And with great power the apostles were giving their testimony to the resurrection of the Lord Jesus, and great grace was upon them all. 34There was not a needy person among them, for as many as were owners of lands or houses sold them and brought the proceeds of what was sold 35and laid it at the apostles' feet, and it was distributed to each as any had need.

Apr 1, 2018

April 1 Late Service Easter Sermon

Apr 1, 2018

April 1 Late Service Easter Sermon

Mark 16:1–8 Early in the morning on the first day of the week, the women brought spices to the tomb where Jesus' body had been laid and find that he is not there; they are instructed by an angel to go and tell the disciples and search for the presence of Jesus. 1When the Sabbath was past, Mary Magdalene and Mary the mother of James and Salome bought spices, so that they might go and anoint him. 2And very early on the first day of the week, when the sun had risen, they went to the tomb. 3And they were saying to one another, "Who will roll away the stone for us from the entrance of the tomb?" 4And looking up, they saw that the stone had been rolled back—it was very large. 5And entering the tomb, they saw a young man sitting on the right side, dressed in a white robe, and they were alarmed. 6And he said to them, "Do not be alarmed. You seek Jesus of Nazareth, who was crucified. He has risen; he is not here. See the place where they laid him. 7But go, tell his disciples and Peter that he is going before you to Galilee. There you will see him, just as he told you." 8And they went out and fled from the tomb, for trembling and astonishment had seized them, and they said nothing to anyone, for they were afraid.