Feb 19, 2017
February 19, 2017 Late Service Sermon
Matthew 5:38–48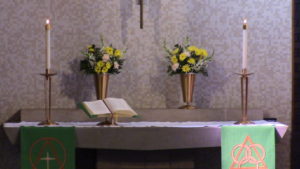 Getting even is a natural response when someone hurts you,
but Jesus commands that we avoid retaliation and pursue prayer for our enemies.
38
[Jesus said:] "You have heard that it was said, 'An eye for an eye and a tooth for a tooth.'
39
But I say to you, Do not resist the one who is evil. But if anyone slaps you on the right cheek, turn to him the other also.
40
And if anyone would sue you and take your tunic, let him have your cloak as well.
41
And if anyone forces you to go one mile, go with him two miles.
42
Give to the one who begs from you, and do not refuse the one who would borrow from you.
43
"You have heard that it was said, 'You shall love your neighbor and hate your enemy.'
44
But I say to you, Love your enemies and pray for those who persecute you,
45
so that you may be sons of your Father who is in heaven. For he makes his sun rise on the evil and on the good, and sends rain on the just and on the unjust.
46
For if you love those who love you, what reward do you have? Do not even the tax collectors do the same?
47
And if you greet only your brothers, what more are you doing than others? Do not even the Gentiles do the same?
48
You therefore must be perfect, as your heavenly Father is perfect.
Watch
Notes
Download
Date
Title
Feb 19, 2017

February 19, 2017 Late Service Sermon

Feb 19, 2017

February 19, 2017 Late Service Sermon

Matthew 5:38–48

Getting even is a natural response when someone hurts you, but Jesus commands that we avoid retaliation and pursue prayer for our enemies. 38

[Jesus said:] "You have heard that it was said, 'An eye for an eye and a tooth for a tooth.'

39

But I say to you, Do not resist the one who is evil. But if anyone slaps you on the right cheek, turn to him the other also.

40

And if anyone would sue you and take your tunic, let him have your cloak as well.

41

And if anyone forces you to go one mile, go with him two miles.

42

Give to the one who begs from you, and do not refuse the one who would borrow from you.

43

"You have heard that it was said, 'You shall love your neighbor and hate your enemy.'

44

But I say to you, Love your enemies and pray for those who persecute you,

45

so that you may be sons of your Father who is in heaven. For he makes his sun rise on the evil and on the good, and sends rain on the just and on the unjust.

46

For if you love those who love you, what reward do you have? Do not even the tax collectors do the same?

47

And if you greet only your brothers, what more are you doing than others? Do not even the Gentiles do the same?

48

You therefore must be perfect, as your heavenly Father is perfect.

Feb 12, 2017

February 12, 2017 Late Service Sermon Sermon on the Mount

Feb 12, 2017

February 12, 2017 Late Service Sermon Sermon on the Mount

Matthew 5:21–37

Obeying laws is necessary for an orderly world, but a heart that is humble, obedient and filled with God's love is essential to the life of a Christian as we bear the mark of Christ and shine His light to the rest of the world. 21

"You have heard that it was said to those of old, 'You shall not murder; and whoever murders will be liable to judgment.'

22

But I say to you that everyone who is angry with his brother will be liable to judgment; whoever insults his brother will be liable to the council; and whoever says, 'You fool!' will be liable to the hell of fire.

23

So if you are offering your gift at the altar and there remember that your brother has something against you,

24

leave your gift there before the altar and go. First be reconciled to your brother, and then come and offer your gift.

25

Come to terms quickly with your accuser while you are going with him to court, lest your accuser hand you over to the judge, and the judge to the guard, and you be put in prison.

26

Truly, I say to you, you will never get out until you have paid the last penny.

27

"You have heard that it was said, 'You shall not commit adultery.'

28

But I say to you that everyone who looks at a woman with lustful intent has already committed adultery with her in his heart.

29

If your right eye causes you to sin, tear it out and throw it away. For it is better that you lose one of your members than that your whole body be thrown into hell.

30

And if your right hand causes you to sin, cut it off and throw it away. For it is better that you lose one of your members than that your whole body go into hell.

31

"It was also said, 'Whoever divorces his wife, let him give her a certificate of divorce.'

32

But I say to you that everyone who divorces his wife, except on the ground of sexual immorality, makes her commit adultery. And whoever marries a divorced woman commits adultery.

33

"Again you have heard that it was said to those of old, 'You shall not swear falsely, but shall perform to the Lord what you have sworn.'

34

But I say to you, Do not take an oath at all, either by heaven, for it is the throne of God,

35

or by the earth, for it is his footstool, or by Jerusalem, for it is the city of the great King.

36

And do not take an oath by your head, for you cannot make one hair white or black.

37

Let what you say be simply 'Yes' or 'No'; anything more than this comes from evil.

Feb 5, 2017

February 5, 2017 Late Service Sermon

Feb 5, 2017

February 5, 2017 Late Service Sermon

Matthew 5:13–20

Jesus compares his disciples to salt and light, reminding them that their actions are being observed by others. While it is important to outwardly model a Christ-like life, it's just as vital to allow our hearts to be changed by Christ himself. 13

[Jesus said:] "You are the salt of the earth, but if salt has lost its taste, how shall its saltiness be restored? It is no longer good for anything except to be thrown out and trampled under people's feet.

14

"You are the light of the world. A city set on a hill cannot be hidden.

15

Nor do people light a lamp and put it under a basket, but on a stand, and it gives light to all in the house.

16

In the same way, let your light shine before others, so that they may see your good works and give glory to your Father who is in heaven.

17

"Do not think that I have come to abolish the Law or the Prophets; I have not come to abolish them but to fulfill them.

18

For truly, I say to you, until heaven and earth pass away, not an iota, not a dot, will pass from the Law until all is accomplished.

19

Therefore whoever relaxes one of the least of these commandments and teaches others to do the same will be called least in the kingdom of heaven, but whoever does them and teaches them will be called great in the kingdom of heaven.

20

"For I tell you, unless your righteousness exceeds that of the scribes and Pharisees, you will never enter the kingdom of heaven.

Jan 29, 2017

January 29, 2017 Late Service Sermon The Beatitudes Sermon on The Mount

Jan 29, 2017

January 29, 2017 Late Service Sermon The Beatitudes Sermon on The Mount

Matthew 5:1–12

This is a tremendous excerpt known as the Beatitudes from the Sermon on the Mount tells us how to be blessed in God's kingdom. 1

Seeing the crowds, [Jesus] went up on the mountain, and when he sat down, his disciples came to him.

2

And he opened his mouth and taught them, saying:

3

"Blessed are the poor in spirit, for theirs is the kingdom of heaven.

4

"Blessed are those who mourn, for they shall be comforted.

5

"Blessed are the meek, for they shall inherit the earth.

6

"Blessed are those who hunger and thirst for righteousness, for they shall be satisfied.

7

"Blessed are the merciful, for they shall receive mercy.

8

"Blessed are the pure in heart, for they shall see God.

9

"Blessed are the peacemakers, for they shall be called sons of God.

10

"Blessed are those who are persecuted for righteousness' sake, for theirs is the kingdom of heaven.

11

"Blessed are you when others revile you and persecute you and utter all kinds of evil against you falsely on my account.

12

Rejoice and be glad, for your reward is great in heaven, for so they persecuted the prophets who were before you.

Jan 22, 2017

January 22, 2017 Late Service Sermon Fishers of Men

Jan 22, 2017

January 22, 2017 Late Service Sermon Fishers of Men

Matthew 4:12–25

In this account, Jesus begins His ministry with a call to repentance and then invites His first disciples to follow him. Then he would teach them to fish for people. 12

Now when [Jesus] heard that John had been arrested, he withdrew into Galilee.

13

And leaving Nazareth he went and lived in Capernaum by the sea, in the territory of Zebulun and Naphtali,

14

so that what was spoken by the prophet Isaiah might be fulfilled:

15

"The land of Zebulun and the land of Naphtali, the way of the sea, beyond the Jordan, Galilee of the Gentiles—

16

the people dwelling in darkness have seen a great light, and for those dwelling in the region and shadow of death,

on them a light has dawned."

17

From that time Jesus began to preach, saying, "Repent, for the kingdom of heaven is at hand."

18

While walking by the Sea of Galilee, he saw two brothers, Simon (who is called Peter) and Andrew his brother, casting a net into the sea, for they were fishermen.

19

And he said to them, "Follow me, and I will make you fishers of men."

20

Immediately they left their nets and followed him.

21

And going on from there he saw two other brothers, James the son of Zebedee and John his brother, in the boat with Zebedee their father, mending their nets, and he called them.

22

Immediately they left the boat and their father and followed him.

23

And he went throughout all Galilee, teaching in their synagogues and proclaiming the gospel of the kingdom and healing every disease and every affliction among the people.

24

So his fame spread throughout all Syria, and they brought him all the sick, those afflicted with various diseases and pains, those oppressed by demons, epileptics, and paralytics, and he healed them.

25

And great crowds followed him from Galilee and the Decapolis, and from Jerusalem and Judea, and from beyond the Jordan.

Jan 15, 2017

January 15, 2017 Late Service Sermon Jesus as the Messiah

Jan 15, 2017

January 15, 2017 Late Service Sermon Jesus as the Messiah

John 1:29–42a

John the Baptist announces Jesus as the Messiah, the Son of God, and then the first disciples follow Jesus and acknowledge Him as the Messiah. 29

The next day [John] saw Jesus coming toward him, and said, "Behold, the Lamb of God, who takes away the sin of the world!

30

This is he of whom I said, 'After me comes a man who ranks before me, because he was before me.'

31

I myself did not know him, but for this purpose I came baptizing with water, that he might be revealed to Israel."

32

And John bore witness: "I saw the Spirit descend from heaven like a dove, and it remained on him.

33

I myself did not know him, but he who sent me to baptize with water said to me, 'He on whom you see the Spirit descend and remain, this is he who baptizes with the Holy Spirit.'

34

And I have seen and have borne witness that this is the Son of God."

35

The next day again John was standing with two of his disciples,

36

and he looked at Jesus as he walked by and said, "Behold, the Lamb of God!"

37

The two disciples heard him say this, and they followed Jesus.

38

Jesus turned and saw them following and said to them, "What are you seeking?" And they said to him, "Rabbi" (which means Teacher), "where are you staying?"

39

He said to them, "Come and you will see." So they came and saw where he was staying, and they stayed with him that day, for it was about the tenth hour.

40

One of the two who heard John speak and followed Jesus was Andrew, Simon Peter's brother.

41

He first found his own brother Simon and said to him, "We have found the Messiah" (which means Christ).

42

He brought him to Jesus. Jesus looked at him and said, "So you are Simon the son of John? You shall be called Cephas" (which means Peter).

Jan 8, 2017

January 8 2017 Late Service Sermon Baptism of Jesus

Jan 8, 2017

January 8 2017 Late Service Sermon Baptism of Jesus

Matthew 3:13–17

Jesus had to fulfill God's mission which meant fulfilling all righteousness. In order to accomplish the mission, Jesus was baptized in the River Jordan by John. 13

Then Jesus came from Galilee to the Jordan to John, to be baptized by him.

14

John would have prevented him, saying, "I need to be baptized by you, and do you come to me?"

15

But Jesus answered him, "Let it be so now, for thus it is fitting for us to fulfill all righteousness." Then he consented.

16

And when Jesus was baptized, immediately he went up from the water, and behold, the heavens were opened to him, and he saw the Spirit of God descending like a dove and coming to rest on him;

17

and behold, a voice from heaven said, "This is my beloved Son, with whom I am well pleased."

Jan 1, 2017

January 1 New Years Day 2017 Sermon HAPPY NEW YEAR

Jan 1, 2017

January 1 New Years Day 2017 Sermon HAPPY NEW YEAR

Luke 2:22–40

Two aging servants see God's salvation; Jesus grows strong in body, wise in spirit, and full of grace. 22

When the time came for their purification according to the Law of Moses, they brought him up to Jerusalem to present him to the Lord

23

(as it is written in the Law of the Lord, "Every male who first opens the womb shall be called holy to the Lord")

24

and to offer a sacrifice according to what is said in the Law of the Lord, "a pair of turtledoves, or two young pigeons."

25

Now there was a man in Jerusalem, whose name was Simeon, and this man was righteous and devout, waiting for the consolation of Israel, and the Holy Spirit was upon him.

26

And it had been revealed to him by the Holy Spirit that he would not see death before he had seen the Lord's Christ.

27

And he came in the Spirit into the temple, and when the parents brought in the child Jesus, to do for him according to the custom of the Law,

28

he took him up in his arms and blessed God and said,

29"Lord, now you are letting your servant depart in peace, according to your word; 30for my eyes have seen your salvation 31that you have prepared in the presence of all peoples, 32a light for revelation to the Gentiles, and for glory to your people Israel." 33

And his father and his mother marveled at what was said about him.

34

And Simeon blessed them and said to Mary his mother, "Behold, this child is appointed for the fall and rising of many in Israel, and for a sign that is opposed

35

(and a sword will pierce through your own soul also), so that thoughts from many hearts may be revealed."

36

And there was a prophetess, Anna, the daughter of Phanuel, of the tribe of Asher. She was advanced in years, having lived with her husband seven years from when she was a virgin,

37

and then as a widow until she was eighty-four. She did not depart from the temple, worshiping with fasting and prayer night and day.

38

And coming up at that very hour she began to give thanks to God and to speak of him to all who were waiting for the redemption of Jerusalem.

39

And when they had performed everything according to the Law of the Lord, they returned into Galilee, to their own town of Nazareth.

40

And the child grew and became strong, filled with wisdom. And the favor of God was upon him.

Dec 25, 2016

December 25 Christmas Day Sermon

Dec 25, 2016

December 25 Christmas Day Sermon

Dec 24, 2016

December 24 Christmas Eve Sermon

Dec 24, 2016

December 24 Christmas Eve Sermon