Oct 9, 2016
October 9 Late Service Sermon
Luke 17:11–19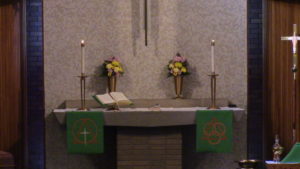 Jesus healed all ten lepers, yet only one returned to thank Him,
thus receiving the healing of wholeness as well as physical healing.
11
On the way to Jerusalem [Jesus] was passing along between Samaria and Galilee.
12
And as he entered a village, he was met by ten lepers, who stood at a distance
13
and lifted up their voices, saying, "Jesus, Master, have mercy on us."
14
When he saw them he said to them, "Go and show yourselves to the priests." And as they went they were cleansed.
15
Then one of them, when he saw that he was healed, turned back, praising God with a loud voice;
16
and he fell on his face at Jesus' feet, giving him thanks. Now he was a Samaritan.
17
Then Jesus answered, "Were not ten cleansed? Where are the nine?
18
Was no one found to return and give praise to God except this foreigner?"
19
And he said to him, "Rise and go your way; your faith has made you well."
Watch
Notes
Download
Date
Title
Oct 9, 2016

October 9 Late Service Sermon

Oct 9, 2016

October 9 Late Service Sermon

Luke 17:11–19

Jesus healed all ten lepers, yet only one returned to thank Him, thus receiving the healing of wholeness as well as physical healing. 11

On the way to Jerusalem [Jesus] was passing along between Samaria and Galilee.

12

And as he entered a village, he was met by ten lepers, who stood at a distance

13

and lifted up their voices, saying, "Jesus, Master, have mercy on us."

14

When he saw them he said to them, "Go and show yourselves to the priests." And as they went they were cleansed.

15

Then one of them, when he saw that he was healed, turned back, praising God with a loud voice;

16

and he fell on his face at Jesus' feet, giving him thanks. Now he was a Samaritan.

17

Then Jesus answered, "Were not ten cleansed? Where are the nine?

18

Was no one found to return and give praise to God except this foreigner?"

19

And he said to him, "Rise and go your way; your faith has made you well."

Oct 2, 2016

October 2 Late Service Sermon

Oct 2, 2016

October 2 Late Service Sermon

Luke 17:1–10

In this passage, Jesus teaches about faith by making reference to the tiny mustard seed which takes root and eventually produces in abundance. Likewise, a tiny seed of faith can produce incredible results. 1

And he said to his disciples, "Temptations to sin are sure to come, but woe to the one through whom they come!

2

It would be better for him if a millstone were hung around his neck and he were cast into the sea than that he should cause one of these little ones to sin.

3

Pay attention to yourselves! If your brother sins, rebuke him, and if he repents, forgive him,

4

and if he sins against you seven times in the day, and turns to you seven times, saying, 'I repent,' you must forgive him."

5

The apostles said to the Lord, "Increase our faith!"

6

And the Lord said, "If you had faith like a grain of mustard seed, you could say to this mulberry tree, 'Be uprooted and planted in the sea,' and it would obey you.

7

"Will any one of you who has a servant plowing or keeping sheep say to him when he has come in from the field, 'Come at once and recline at table'?

8

Will he not rather say to him, 'Prepare supper for me, and dress properly, and serve me while I eat and drink, and afterward you will eat and drink'?

9

Does he thank the servant because he did what was commanded?

10

So you also, when you have done all that you were commanded, say, 'We are unworthy servants; we have only done what was our duty.'"

Sep 18, 2016

September 18 Late Service Sermon

Sep 18, 2016

September 18 Late Service Sermon

Luke 16:1–15

Jesus shares the parable of the shrewd manager to focus on the Lordship of Christ in a world where wealth can easily take precedence over a relationship with Christ.

[Jesus] also said to the disciples, "There was a rich man who had a manager, and charges were brought to him that this man was wasting his possessions.

2

And he called him and said to him, 'What is this that I hear about you? Turn in the account of your management, for you can no longer be manager.'

3

And the manager said to himself, 'What shall I do, since my master is taking the management away from me? I am not strong enough to dig, and I am ashamed to beg.

4

I have decided what to do, so that when I am removed from management, people may receive me into their houses.'

5

So, summoning his master's debtors one by one, he said to the first, 'How much do you owe my master?'

6

He said, 'A hundred measures of oil.' He said to him, 'Take your bill, and sit down quickly and write fifty.'

7

Then he said to another, 'And how much do you owe?' He said, 'A hundred measures of wheat.' He said to him, 'Take your bill, and write eighty.'

8

The master commended the dishonest manager for his shrewdness. For the sons of this world are more shrewd in dealing with their own generation than the sons of light.

9

And I tell you, make friends for yourselves by means of unrighteous wealth, so that when it fails they may receive you into the eternal dwellings.

10

"One who is faithful in a very little is also faithful in much, and one who is dishonest in a very little is also dishonest in much.

11

If then you have not been faithful in the unrighteous wealth, who will entrust to you the true riches?

12

And if you have not been faithful in that which is another's, who will give you that which is your own?

13

No servant can serve two masters, for either he will hate the one and love the other, or he will be devoted to the one and despise the other. You cannot serve God and money."

14

The Pharisees, who were lovers of money, heard all these things, and they ridiculed him.

15

And he said to them, "You are those who justify yourselves before men, but God knows your hearts. For what is exalted among men is an abomination in the sight of God.

Sep 11, 2016

September 11 Late Service Sermon

Sep 11, 2016

September 11 Late Service Sermon

Luke 15:1–10

God searches for the lost, and when He finds them, there is joy in heaven. 1

Now the tax collectors and sinners were all drawing near to hear [Jesus].

2

And the Pharisees and the scribes grumbled, saying, "This man receives sinners and eats with them."

3

So he told them this parable:

4

"What man of you, having a hundred sheep, if he has lost one of them, does not leave the ninety-nine in the open country, and go after the one that is lost, until he finds it?

5

And when he has found it, he lays it on his shoulders, rejoicing.

6

And when he comes home, he calls together his friends and his neighbors, saying to them, 'Rejoice with me, for I have found my sheep that was lost.'

7

Just so, I tell you, there will be more joy in heaven over one sinner who repents than over ninety-nine righteous persons who need no repentance.

8

"Or what woman, having ten silver coins, if she loses one coin, does not light a lamp and sweep the house and seek diligently until she finds it?

9

And when she has found it, she calls together her friends and neighbors, saying, 'Rejoice with me, for I have found the coin that I had lost.'

10

Just so, I tell you, there is joy before the angels of God over one sinner who repents."

Sep 4, 2016

September 4 Summer Service Sermon

Sep 4, 2016

September 4 Summer Service Sermon

Luke 14:25–35 Jesus teaches the crowds what it means to be a disciple of Jesus Christ and the demands that go with this relationship. 25

Now great crowds accompanied [Jesus], and he turned and said to them,

26

"If anyone comes to me and does not hate his own father and mother and wife and children and brothers and sisters, yes, and even his own life, he cannot be my disciple.

27

Whoever does not bear his own cross and come after me cannot be my disciple.

28

For which of you, desiring to build a tower, does not first sit down and count the cost, whether he has enough to complete it?

29

Otherwise, when he has laid a foundation and is not able to finish, all who see it begin to mock him,

30

saying, 'This man began to build and was not able to finish.'

31

Or what king, going out to encounter another king in war, will not sit down first and deliberate whether he is able with ten thousand to meet him who comes against him with twenty thousand?

32

And if not, while the other is yet a great way off, he sends a delegation and asks for terms of peace.

33

So therefore, any one of you who does not renounce all that he has cannot be my disciple.

34

"Salt is good, but if salt has lost its taste, how shall its saltiness be restored?

35

It is of no use either for the soil or for the manure pile. It is thrown away. He who has ears to hear, let him hear."

Aug 28, 2016

August 28 Summer Service Sermon How Great is Our God

Aug 28, 2016

August 28 Summer Service Sermon How Great is Our God

Aug 21, 2016

August 21 Summer Service Sermon Kingdom of God

Aug 21, 2016

August 21 Summer Service Sermon Kingdom of God

Luke 13:22–30

Jesus continues His teachings during His journey to Jerusalem addressing who will enter the Kingdom of God. 22[Jesus] went on his way through towns and villages, teaching and journeying toward Jerusalem. 23And someone said to him, "Lord, will those who are saved be few?" And he said to them, 24"Strive to enter through the narrow door. For many, I tell you, will seek to enter and will not be able. 25When once the master of the house has risen and shut the door, and you begin to stand outside and to knock at the door, saying, 'Lord, open to us,' then he will answer you, 'I do not know where you come from.' 26Then you will begin to say, 'We ate and drank in your presence, and you taught in our streets.' 27But he will say, 'I tell you, I do not know where you come from. Depart from me, all you workers of evil!' 28In that place there will be weeping and gnashing of teeth, when you see Abraham and Isaac and Jacob and all the prophets in the kingdom of God but you yourselves cast out. 29And people will come from east and west, and from north and south, and recline at table in the kingdom of God. 30And behold, some are last who will be first, and some are first who will be last."

Aug 14, 2016

August 14 Summer Service Sermon Jesus teaches us

Aug 14, 2016

August 14 Summer Service Sermon Jesus teaches us

Luke 12:49–53

Jesus teaches us and warns us what His coming means for those He calls into His name. Not all people will accept Him, and divisions will rise. 49[Jesus said:] "I came to cast fire on the earth, and would that it were already kindled! 50I have a baptism to be baptized with, and how great is my distress until it is accomplished! 51Do you think that I have come to give peace on earth? No, I tell you, but rather division. 52For from now on in one house there will be five divided, three against two and two against three. 53They will be divided, father against son and son against father, mother against daughter and daughter against mother, mother-in-law against her daughter-in-law and daughter-in-law against mother-in-law."

Aug 7, 2016

August 7 Summer Service Sermon Faith

Aug 7, 2016

August 7 Summer Service Sermon Faith

Jul 31, 2016

July 31 Summer Service Sermon VBS Recap 2016

Jul 31, 2016

July 31 Summer Service Sermon VBS Recap 2016

Luke 12:13–21

One's relationship with God is far more important than the accumulation of wealth and material things. God wants us to use what has been given to us to further His Kingdom which will have eternal rewards. 13Someone in the crowd said to [Jesus], "Teacher, tell my brother to divide the inheritance with me." 14But he said to him, "Man, who made me a judge or arbitrator over you?" 15And he said to them, "Take care, and be on your guard against all covetousness, for one's life does not consist in the abundance of his possessions." 16And he told them a parable, saying, "The land of a rich man produced plentifully, 17and he thought to himself, 'What shall I do, for I have nowhere to store my crops?' 18And he said, 'I will do this: I will tear down my barns and build larger ones, and there I will store all my grain and my goods. 19And I will say to my soul, Soul, you have ample goods laid up for many years; relax, eat, drink, be merry.' 20But God said to him, 'Fool! This night your soul is required of you, and the things you have prepared, whose will they be?' 21So is the one who lays up treasure for himself and is not rich toward God."